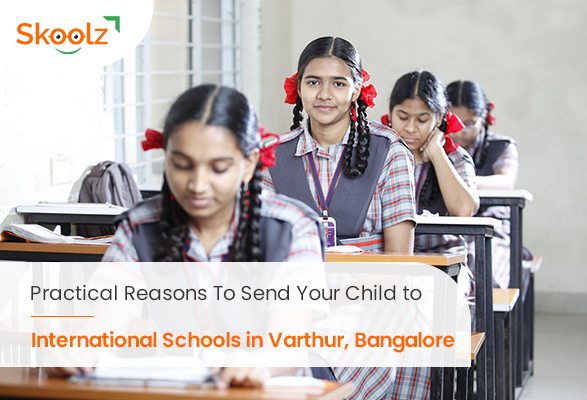 Practical Reasons To Send Your Child to International Schools in Varthur, Bangalore
"Education is the most powerful weapon which you can use to change the world."
Reasons to Choose a Bangalore International School:
International education in the form of CBSE International Schools in Bangalore catalyzes global transformation. The world of international education is a melting pot of people, and learning from a global viewpoint ensures that students are exposed to a variety of cultures, ethnic groups, faiths, and languages, improving society and widening everyone's academic experience.
If we see the education of the CBSE board in Bangalore that too is in itself good, the CBSE International has paved the way, which is amid the accolades and credits for the same goes to its advancement. CBSE International schools in Bangalore make the necessary investment that will sustain and create a multicultural learning atmosphere. This is great for improving students' cultural awareness and promoting their understanding and appreciation of others from different backgrounds.
Varthur is making a strong push into the education market as the business landscape changes. Some of these institutions strive to give a traditional education system, while others strive to provide more relevant education for today's world. These schools' bilingual curricula can assist pupils in preparing for their future employers. They also provide extracurricular activities like athletics and the arts to expose pupils to a variety of activities and to assist them in discovering one thing they are good at and want to pursue in life.
Parents may favour international schools over other schools in Varthur for a variety of reasons. International schools provide a more practical approach to education, as well as increased exposure and the ability for students to study anywhere in the world. Finding the best school for your child can be a time-consuming process. Locality, fees structure, curriculum, extracurriculars, and other critical elements must all be taken into account. Some practical reasons for sending your child to CBSE international schools in Varthur are mentioned below:-
Personal factors
Factors such as your child's personality, learning ability, needs, and hobbies, are likely to influence your priorities. Parents should choose a school that not only has the best infrastructure and amenities but also offers a curriculum that meets their children's needs. International schools in Varthur are offering personalised learning modules as per the learning needs of the pupil.
Affordability
Parents pay a lot of money for schools that provide the International Baccalaureate and Cambridge curricula, whereas most parents can afford CBSE international schools in Bangalore's Varthur. The fee structure depends on factors, such as differences in curriculum, infrastructure, quality of education. From school fees and lab charges to book expenses and miscellaneous fees, almost everything costs more in an ICSE school.
Diverse Curriculum
Students must learn about the various cultures and ethnic groups that exist. This will assist students in comprehending many points of view, resulting in a more understanding world. Students in foreign language programmes learn about the country's culture, customs, and traditions. The context for the words, phrases, and expressions they are learning is provided by this exposure. It also enables children to form their sense of self as bilingual or multilingual people. The modern world is changing at a breakneck speed. The school system, like the rest of the world, must evolve as well. To get an advantage in this rapidly changing, digitalized world, we must teach our children to think critically and learn independently.
The Final Words
The educational system must prepare students for their futures by teaching them how to work independently, solve problems through critical thinking, and not just cover information for traditional assessments. And this is exactly what students at Varthur's International Schools receive. For more information about schools affiliated with the CBSE board in Bangalore, you can visit Skoolz, a platform that provides all the data related to various educational institutions. You can compare schools as per your needs to make a sound decision for your child.
Written by:
Swapna Seshadri
Leader - Customer Engagement Skoolz