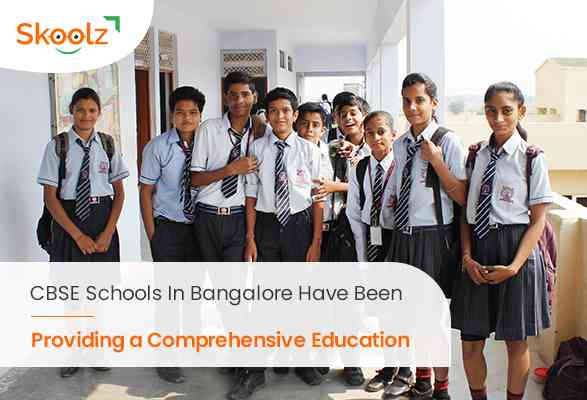 CBSE Schools In Bangalore Have Been Providing a Comprehensive Education
When it comes to providing education to their kids, all Indian parents want to choose the best. They leave no stone unturned to make sure their children get the best-in-class education. In today's day and age, the CBSE (Central Board of Secondary Education) has become the country's most prestigious education board as it entails a well-researched curriculum incorporating global trends. The board provides the best chance for students to excel in the academic world. In addition to academic growth, children also get opportunities to explore various cultures, languages, and cumulative approaches. In simple words, a student's all-rounder skills are developed in all CBSE schools.
According to the latest data available, CBSE has almost 17,000 schools in various parts of India and abroad. The board aims to be student-friendly and has an engaging syllabus with a keen focus on various competitive exams. There is a plethora of benefits to studying in CBSE schools as it has recognition by the Indian government, it's a student-friendly approach to education, a comprehensive syllabus designed by CBSE in-house experts, and many more. If we talk about the best CBSE schools in Bangalore, some institutions are ensuring quality education to students by adapting to the latest technology, national and international competitive exams' curriculum, and engaging in extracurricular activities cherished by kids.
Benefits of CBSE Schools In Bangalore in the 21st Century:
In today's time, we have CBSE schools with advanced ways of offering education with high-quality standards. Enrolling your kid in a renowned CBSE school can be advantageous in many ways. These include: -
1. Different Cultural Exposures


CBSE schools give exposure to various cultures, which further develops an inherent ability in students, helping them to cooperate with different cultures. This later transforms a student's life into a successful career. Isn't that great?
2. Learn New languages

Getting enrolled in a reputed CBSE school allows a student to improve his/her multilingual abilities. Such schools offer your child the freedom to decide the language they want to pursue in their academic curriculum. Nowadays, French, German & Spanish are among the list of popular foreign languages being taught in the best CBSE schools.
3. Brings a Fresh Perspective to Education

The CBSE curriculum allows students to grasp international concepts and explore broader avenues of knowledge. In addition to this, there are multiple curricula offered to students to promote continuous learning as per their interests.
4. CBSE Schools Have Also Adopted the International Curriculum

CBSE schools in Bangalore also offer international programs to ensure a balance between traditional methods of education and new evolving techniques of the 21st century. This fusion in the field of education is the need of the hour, and every parent in the country is now understanding its value and adapting to it.
5. CBSE Schools in Bangalore Are Extraordinary

CBSE Schools in Bangalore are nothing less than the hubs of modern education & growth. They have an enviable record and are considered one of the best in the country. After going through several survey reports, we can say that the quality of education, cultural activities, science exhibitions, and sports events in the best CBSE schools within Bangalore is beyond comparison. They have all modern facilities, such as digital classrooms, well-equipped libraries, and computer labs, along with experienced staff. Moreover, they also help your child prepare for all competitive exams, including IIT, NEET, SAT, and many more.
Conclusion
To end this write-up on a high note, we just want to leave you here with the final remark that CBSE Schools are the best way of introducing your child to the global educational framework and myriads of opportunities. CBSE schools in Bangalore have earned a reputation for themselves by offering comprehensive education at Skoolz.in you can find the best CBSE schools in Bangalore at a click. Therefore, without any further delay, get your children enrolled in the top CBSE school in Bangalore today.
Disclaimer: The information provided in our blogs about schools is intended for general informational purposes only. We make every effort to ensure that the information we present is accurate and up-to-date at the time of writing. However, the educational landscape can change, and specific details about schools, including admission processes, rankings, and policies, may evolve over time.

Written by:
Swapna Seshadri
Leader - Customer Engagement Skoolz