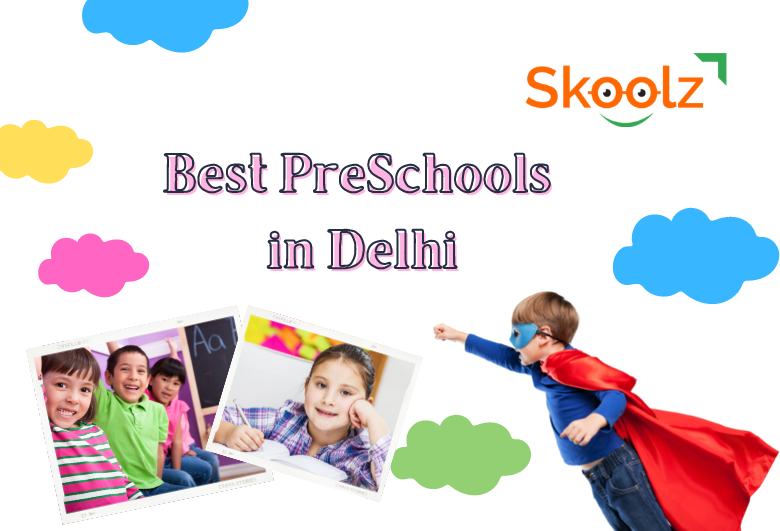 Best Pre-Schools in Delhi
Pre-schools are basically early childhood education programs that kids should attend before they begin schooling. The programs they offer combine play with learning and are taught by professionally trained educators.
Since preschools are the foundation and set the base for your child's education ahead, it is crucial to select the best pre-school. It's only natural if you want a school with qualified educators who provide quality education, help develop your child's imagination and hone age-appropriate skills.
Finding the right preschool for your child in Delhi might seem like a daunting task. But worry not, as we've got it covered. Here's a list of the best pre-schools in Delhi to make the process of selecting the right one for your child easier.
Top Pre Schools in Delhi
1. Step by Step
With a curriculum that provides new-age learning experiences that help develop your child's imagination and hone age-appropriate skills, Step by Step Nursery School is one of the best preschools in Delhi. Their lesson plan is divided into three steps: activities, documentation, and assessment. The school has a diverse range of activities like dancing, yoga, singing, pottery, storytime, drama, role-play, etc., as a part of their curriculum. What's best? Step by Step preschool also caters to children with special needs.
Location | Plot No 1, Block N, Panchsheel Park
2. The Magic Years
Many parents don't shy away from wanting global exposure for their child right from the beginning. If you're one of those parents, The Magic Years is the best pre-school in Vasant Vihar for your child as they have 200+ students from over 15 nations. The preschool follows the teaching methodology of Montessori. Moreover, they follow a structure with a student-teacher ratio of 1:4 that ensures individual attention to every child. You don't have to worry about your child's lunch anymore; the school provides lunch and drinking water.
Location | Street E-3, Near DPS, Vasant Vihar
3. Little Pearls
Little pearls is another one of the best pre-schools in Delhi, Vasant Vihar, promoted in 1994 by Little People Education Society, established by House of Pearl Fashions Ltd. Their mission is "to enable holistic development of children and enhance their creative, cognitive, communication and language, social and emotional development. Their curriculum is designed to pay individual attention to each child's observational, problem-solving, logical thinking skills, and vocabulary. Additionally, they focus on children's abilities and qualities such as sharing, caring, independence, responsibility, and self-confidence. Their campus is spread across 12,000 square feet with ventilated classrooms and spacious activity rooms equipped with educational equipment.
Location | Vasant Vihar, Delhi
4. Kangaroo Kids, Unitech
Want your kids to have fun while they learn? If yes, then Kangaroo Kids is one of the best pre-schools in Gurgaon. Their teaching methodologies include the learn-while-you-play method and other experimental fun learning techniques. Moreover, the school has all the modern facilities, including an audiovisual room, indoor sports room, art room, and science labs.
Location | Unitech Uniworld Resorts, Sector 33, Near Subash Chowk, Gurgaon
5. The Learning Tree
Want your children to study in an eco-friendly environment? The Learning Tree, established in 1995, is one of the best preschools in Delhi that welcomes little children to the wonders of nature as it unfolds through the seasons. The school has classrooms without doors and walls. The classes are topped by eco-friendly bamboo roofs open to a lawn filled with trees, plants, and safe little animals. Each lesson consists of 15 children with a teacher and a helper. Moreover, the curriculum provides a solid educational foundation through hands-on learning activities.
Location | B-13, Sujan Singh Park
6. The Shree Ram Early Years
Trusted by the parents and supported by the educationists, The Shree Ram Early Years is one of the highly-rated, best preschools in Greater Kailash. The faculty here stress the necessity of learning while playing. They believe that children between 2 to 5 years of age are eager for the same. This makes retention easier and learning more fun, creating a solid base for the child before their formal education begins.
Location | B - 1, Block B, Greater Kailash I, Greater Kailash, New Delhi
Conclusion
Before choosing the school for your child, remember that pre-school education will set the foundation for your child's formal education in the coming years. So, it has to be a solid one that gives your child the experience, the learning, skills, and confidence to face what's to come further. Now that you have a list of the best pre-schools in Delhi, we're optimistic it'll be easier for you to browse through and select the right one for your child.
| School | Location | Fees (approx) | Amenities |
| --- | --- | --- | --- |
| Step by Step | Panchsheel | INR 12,000 (monthly) | Auditorium, Indoor play area, Outdoor play area, Splash pools, music room, Therapies, Medical Room |
| The Magic Years | Vasant Vihar | INR 17,000 (monthly) | Healthy vegetarian lunch, purified drinking water, Media room, Auditorium, Cafeteria, Medical Room, Labs |
| Little Pearls | Vasant Vihar | INR 84,000(NA) | Media room, Cafeteria, Playground, Meals, Transportation, AC rooms, Indoor playroom, Activity room, Child care |
| Kangaroo Kids | Gurgaon | NA | Playrooms, Science labs, multipurpose ground, Swings, Smart boards, splash pool |
| The Learning Tree | Sujan Singh Park | NA | NA |
| The Shree Ram Early Years | Greater Kailash | NA | Assembly stage, Indoor Playroom, Library, Medical room, Playground, splash pool |
Written by:
Ravi Gupta
Growth Specilist