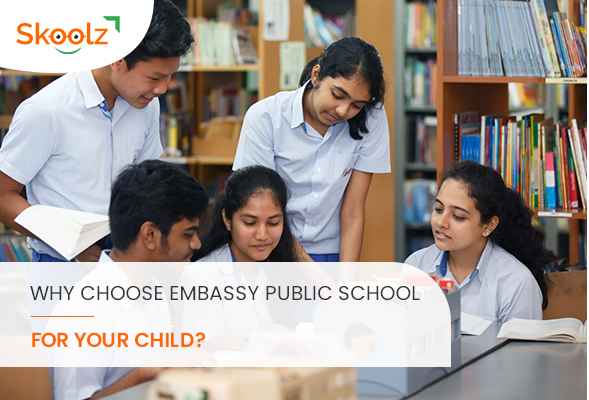 WHY CHOOSE EMBASSY PUBLIC SCHOOL FOR YOUR CHILD?
"The roots of education are bitter, but the fruit is sweet" In today's day and age, one of the basic necessities of youngsters is education. It's also a crucial instrument necessary for your child's growth, and the school plays a pivotal role in their overall development. The syllabus, environment, teachers, and aid influence not only their learning process but also their general creative development. In this article, we would like to provide you with some useful information related to the Embassy Public School and why you should choose it.
EMBASSY PUBLIC SCHOOL
Embassy Public School has stood for and embodied quality in education since 2002. Today, the institution provides an unparalleled learning experience to its scholars. Students are surrounded by opportunities and options in academic, athletic, cultural, and community service areas. The management believes in fostering a culture of high-performance expectations and individual attention. This has benefited them in achieving an unrivalled record of academic and sports achievements.
Their educational path aims to promote critical thinking and problem-solving skills. At Embassy Public School, all teachers and supporting staff members value each child's individuality while celebrating unity in variety in a supportive environment. They believe that the intellectual, physical, emotional, and creative needs of students should be met with equal priority.
What makes them different?
Technology Aided Classroom Teaching

The Embassy Public School is committed to providing a robust and supportive atmosphere for students studying here. A school provides a wide range of curricular and extracurricular activities, with something for everyone.

Being among the top public high schools, the initiation of interactive digital boards, multimedia projectors, and computers with the curriculum in all classrooms from Kindergarten to Class X is one of the school's primary initiatives.

Teachers have access to various technology resources, including audiovisual lesson plans, teachers guidelines, animated 2D/3D content, video for laboratories and experiments, PowerPoint representation, and worksheets, among a variety of other teaching aids. This has improved the learning process and helped in keeping students more curious in the learning process.

Life Skills

Life Skills is a new subject that has recently been added to their curriculum. Individuals can deal well with the demands and obstacles of everyday life if they can learn new ways of thinking, improvise their problem-solving abilities, and behave positively. This involvement allows students to examine, explore, and evaluate circumstances based on their values and make judgments for the present and future.

Diversity of Sports

Sports are an essential part of the curriculum. Students can participate in a diverse range of sports at Embassy Public School. With experienced coaches and mentors, they can get trained and coached in various sports and reach new heights.

Here is the list of sports offered by the school:

Swimming

Cricket

Volleyball

Fencing

Roller Skating

Basketball

Karate

Football
Skoolz: Helping Parents in locating nearby schools
At Embassy Public School, parents are motivated to participate in guiding and supporting their children's learning. All members within the school community are characterized by collaboration, sharing of ideas, and innovative dispute resolution.
You can rely on Skoolz if you are puzzled or having difficulty finding the top ICSE schools, best public elementary schools or information about Embassy Public School. Skoolz will assist you in resolving all of your concerns and offering the best for your kid.
Parents can compare three schools at once on the Skoolz portal. Additionally, you can better understand everything about a school by reviewing honest parent opinions. With a single click, parents can book an appointment and apply to different schools. Our goal is to assist parents in getting to know the school's leaders. Ready to enrol your kid in the top public high school?
Written by:
Swapna Seshadri
Leader - Customer Engagement Skoolz